A Drop in the Bucket: A film by Lauren Shaw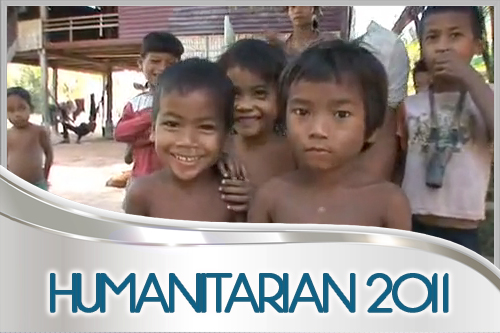 Best Shorts 2011 Annual Humanitarian Award goes to filmmaker Lauren Shaw for her film, A Drop In The Bucket. Her film highlights the need for clean drinking water in rural villages around the word and those who help make that possible.
Best Shorts 2011 Annual Humanitarian Award goes to filmmaker Lauren Shaw for her film, A Drop In The Bucket. Her film highlights the need for clean drinking water in rural villages around the word and those who help make that possible.
By Debbie L. Sklar
This film is a timely, hopeful and lyrical tale about people reaching across international boundaries to help provide clean water in rural Cambodia. Michelle Harris, host of the television program Alive & Well, said, A Drop in the Bucket provides a wake-up call to the world about the need for all people to have access to water and the impact it makes on their lives." It explores bringing fresh, clean water to rural Cambodia, a cause near and dear to Shaw's heart. Within the film, viewers become aware of the contemporary struggles of the Cambodian people as they endeavor to recover from the horrors of mass genocide.
Shaw, a full time photography professor for the past 39 years at Emerson College, she recently shared her views about the film and on winning the award.
Q: Where did the idea for the film evolve?  
A: I first came to Cambodia in 2007, never dreaming that I would be able to visit a country that our country mercilessly bombed during the Vietnam War. I came from Vietnam and the differences were so dramatic, no infrastructures, massive poverty, no clean water. I felt compelled shortly after arriving in Cambodia to use my art to do something, even small, that might make a difference.
 Q: How long did it take?  
A: I started it in 2008 and screened it at the Maine International Film Festival in 2009.
 Q: Was this your first film? 
A: I did Maine Women: Living on the Land, but it was a museum installation video to accompany the exhibition: Maine Women: Living on the Land.
Q: Will there be a follow-up?
A: Yes, a feature film called: Angkor's Children, 2013. Those interested can visit www.angkorschildren.com, or join the Facebook page, angkors children.
 Q: How do you feel about receiving the Best Shorts Competition Humanitarian Award for this film?  
A: I was extremely proud and humbled because there are so many filmmakers who are doing extraordinary films about human rights violations.
 Q: What makes you a humanitarian or do you not consider yourself one?
A: I think of myself as a compassionate human being that is all.
 Q: Why is this subject important to you?
A: Water is the most essential need of every human being. Everyone deserves clean water. Without clean water, there is no chance for development, education is the next step, but clean water is first.
 Q: Tell us about your cause/charity?
A: I have no charity. I have no cause. I just want my film to inspire an audience to not just write out checks for something that they think may make a difference, but to go and make sure that what they want to support is something real. I believe that many in the United States live a life of excess. Now things are changing. Many people are struggling, so maybe it is time for everyone to feel responsible for those who have less, especially basic needs such as water. I want my film to inspire people to care, and to ask questions about where their money is going, for whom, and for what. I think it is very rewarding to go and see firsthand. It has changed my life, and my art making.
 Q: Do most people just turn a blind eye in terms of how other people besides those in the United States are not so lucky to have fresh, flowing water daily? Why didn't you? 
A: I would hesitate to say, 'most people.' How can you generalize? It's not possible. Certainly, there is great caring in the country of Cambodia. I was hit in the face when I came there the first time. I felt I did not have a choice. It was my responsibility to do something.
 Q: Does the title of the film have a particular meaning?
A: Building wells is a small act, a drop in the bucket, but if everyone acts, the bucket fills up. It is always one step at a time that usually achieves the final goal. It has to start from the bottom up.
 Q: Where do you go from here in spreading the message?
A: Show the film; tell people that they can build wells. They can give them to others in honor of someone, gifts, etc. So many people have built wells based on seeing our film. Recently, a high school in Lowell, Massachusetts, saw the film, and then raised money in their school to build three wells. The high school was a Cambodian/American student body, plus Hispanic, and Caucasians. I was so knocked out and deeply proud.
 Q: Who funded the film? 
A: I received some funding from Emerson College, but it was mostly out of our pocketbooks.
 Q: Advice to others who might like to follow in your footsteps?
A: Find out what you are passionate about and follow that. Be responsible about seeing the world through the eyes of the people you are making the film about. Stay open and curious.
 Q: What was the best part of making this film for you?
A: Every step from the beginning to the screening!
 Q: Have you been back to the village to check on the circumstances now?
A: No, but I know that if the well breaks, the villagers know how to repair them.
 Q: How as a filmmaker can you help to make the world more aware of this?
A: You cannot make, you can only try.
 Q: How can people help if they would like to?
A: They may contact Journeys Within Our Community and request information about donating a well. They are an amazing NGO, who believe in empowerment to the people by training them, and making them responsible for their wells. LINK 
 Q: Have you won or been recognized for this film by other award competitions? If so, how does that make you feel?
A: A Drop in the Bucket has won many awards and I am deeply honored by all of them. We received over $5,000 all put toward building wells. See it here: LINK